Padmashree Arunima Sinha
 Brand Ambassador, BVG India Ltd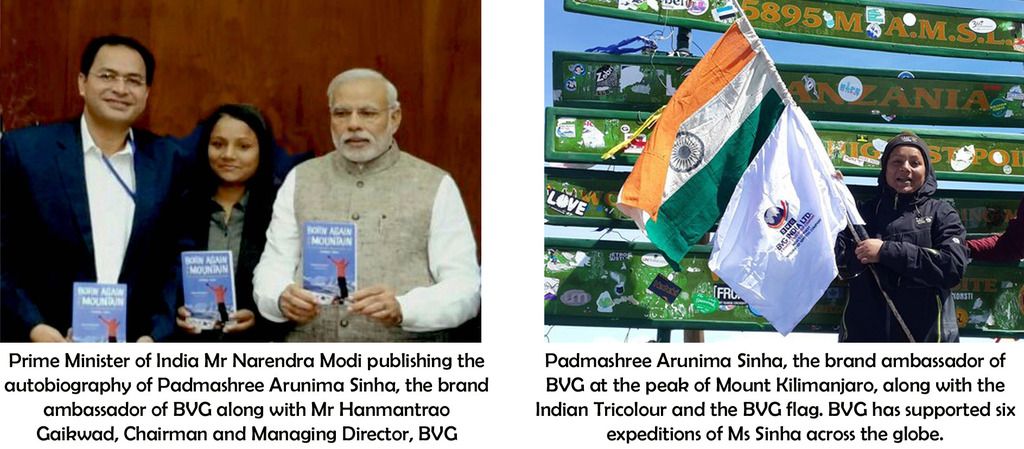 From losing a leg after being thrown from a train to scaling the Mount Everest, Arunima is courage and determination personified. 
Padmashree Arunima Sinha is the world's first female amputee to climb Mount Everest, now on an expedition to climb the tallest peaks in all continents and hoist the Indian Tricolour onto them.
Born in 1988, Arunima Sinha was a national level volleyball and football player. In 2011, she had boarded a train travelling to Delhi from Lucknow  to take an examination to join the CISF. A group of thieves entered the coach she was travelling in and wanted to snatch her bag and gold chain. When she resisted, they pushed her out of the running train. The resulting injuries led to her left leg being amputated below the knee.
She was admitted to the All India Institute of Medical Sciences for treatment. A Delhi based company provided her a prosthetic leg free of cost. During treatment at AIIMS, she was inspired by cancer-survivor cricketer Yuvraj Singh 'to do something' with her life, and she resolved to climb the Mount Everest. She excelled in the basic mountaineering course from the Nehru Institute of Mountaineering, Uttarkashi. She then contacted Bachendri Pal, the first Indian woman to climb Mount Everest, and signed up for training under her. Sinha climbed Island Peak (6150 metres) in 2012 as preparation for her ascent of Everest. In May 2013, she completed her ascent on Mount Everest, becoming a role model for physically challenged people. Ms Arunima then set out to conquer all the tallest peaks in each continent, as a part of the expedition she calls Mission 7 Summits.
After Mt Everest, she has so far conquered Mt. Kilimanjaro, Mt. Mount Kosciuszko, Mt Elbrus and Mt. Aconcagua, by December 2015. BVG has supported all her expeditions after Mt Everest and we will also support her remaining two expeditions.
 Mission Ahead!
Ms Arunima now wants to help other physically challenged people achieve their goals. In her words, she says!
I have achieved my goal but now I want to help physically challenged people to achieve their goal so that they can also become self-dependent and nobody looks at them with pity. I am planning to open a sports academy named " Chandra Shekhar Azad Viklaang Khel Academy" for physically challenged, handicapped people and for that I have already bought a piece of land in Unnao district in Uttar Pradesh. My dream is to make these physically challenged people achieve their dream. I want to do something for them and for their dreams. Through this academy I want to provide them a platform through which they can prove themselves in this society where physically challenged people are considered as an object of pity. In order to support as many physically disabled and handicapped people as possible, I am striving hard to start this Chandra Shekhar Azad Viklaang Khel Academy. There is something in my heart which is inciting me to do something for physically challenged people like me. I want to train them, make them independent and strong through sports. The objective of my sports academy is to provide training to people with physical disability and to empower them through our complete support so that they can get equal opportunities and full participation in society.